Medium Duty Trucks, Built Ford Tough®
Our Class 6-7 trucks offer you diesel or gasoline power to help give you the combination of cost-effective performance for your particular vocation. F-650/F-750 trucks feature a work-ready frame developed with leading upfitters to accommodate vocational bodies requiring few or no modifications. This collaboration resulted in components such as fuel tanks, wiring harnesses and diesel exhaust fluid reservoirs located under the cab. Choose from 36 standard clean CA offerings ranging from 72 to 207 inches.
Shop 2021 F-Series
The 2021 F-650 and F-750 trucks feature a new class-exclusive* available 7.3L V8 gas engine, with GCWRs up to 50,000 lbs and GVWRs as high as 37,000 lbs. And we're proud to say, F-650/F-750 trucks and tractors are built in America at our Ohio Assembly Plant in Avon Lake. ** By controlling every phase of truck development in-house, from design and engineering to manufacturing, we're able to cover every aspect of customer service from the day of initial purchase to a continuing commitment to quality care long down the road.

*Class is 6–7 Classic Conventional Cabs.
**Assembled in the USA with domestic and foreign parts.
Shop 2019 F-Series
The TorqShift® HD 6-speed automatic easily handles the heavy torque of the diesel and gas engines. The Tow/Haul feature minimizes gear hunting on an uphill; on a downhill, it prevents upshifting and increase in speed, and reduces brake pressure. TorqShift offers the available live-drive power takeoff provision with stationary and mobile modes. Operating costs demand that you spec your truck to meet exact job requirements. That's why Ford Medium Duty trucks are available in GVWRs starting at 20,500 lbs. with the F-650 Pro Loader® and going as high as 37,000 lbs. with the 6.7L Power Stroke® turbo diesel-powered F-750.
Peoria Ford Commercial Trucks proudly uses the finest truck upfits from well-known brands like Knaphide, Reading, Curt, RKI, Adrian Steel, Maxon, and Kargo Master, to name a few. Outfit your Ford Commerical Truck for any job; from hauling upfits and storage systems to stake bed and dump truck upfits, we promise you that your Ford Work Truck will get the job done.
---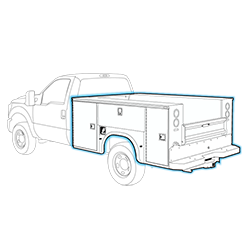 MULTIPLE UPFIT OPTIONS
6.7L POWER STROKE TURBO DIESEL + TORQSHIFT TRANSMISSION
ADVANCED FUEL CONVERSIONS
STRAIGHT-FRAME MODEL OR TRACTOR
2021 F-650 GAS
Engine

7.3L V8

Power

350 HP, 468 lb.-ft

GVWR (standard)

22,000 - 26,000 lbs.

GVWR (max)

37,000 lbs.

MSRP

Starting at $59,810
2021 F-650 DIESEL
Engine

6.7L PowerStroke V8 Turbo Diesel

Power

300 HP, 725 lb.-ft

GVWR (standard)

31,000 - 37,000 lbs.

GVWR (max)

50,000 lbs.

MSRP

Starting at $68,370
2021 F-750 DIESEL
Engine

6.7L PowerStroke V8 Turbo Diesel

Power

330 HP, 750 lb.-ft

GVWR (standard)

27,500 - 37,000 lbs.

GVWR (max)

50,000 lbs.

MSRP

Starting at $68,970
2019 F-650 GAS
Engine

8.6L Triton V10

Power

320 HP, 460 lb.-ft

GVWR (standard)

22,000

GVWR (max)

26,000 lbs.

MSRP

Starting at $57,515
2019 F-650 DIESEL
Engine

6.7L PowerStroke V8 Turbo Diesel

Power

300 HP, 700 lb.-ft

GVWR (standard)

25,600 - 31,000 lbs.

GVWR (max)

29,000 - 33,000 lbs.

MSRP

Starting at $67,565
2019 F-750 DIESEL
Engine

6.7L PowerStroke V8 Turbo Diesel

Power

330 HP, 750 lb.-ft

GVWR (standard)

27,500 - 31,000 lbs.

GVWR (max)

29,000 - 37,000 lbs.

MSRP

Starting at $72,730